This holiday season, you can put hope on the table for a child in need
 For just $20, you can provide a hungry child with a bag of food from Backpack Buddies filled with meals and snacks to last the weekend and beyond.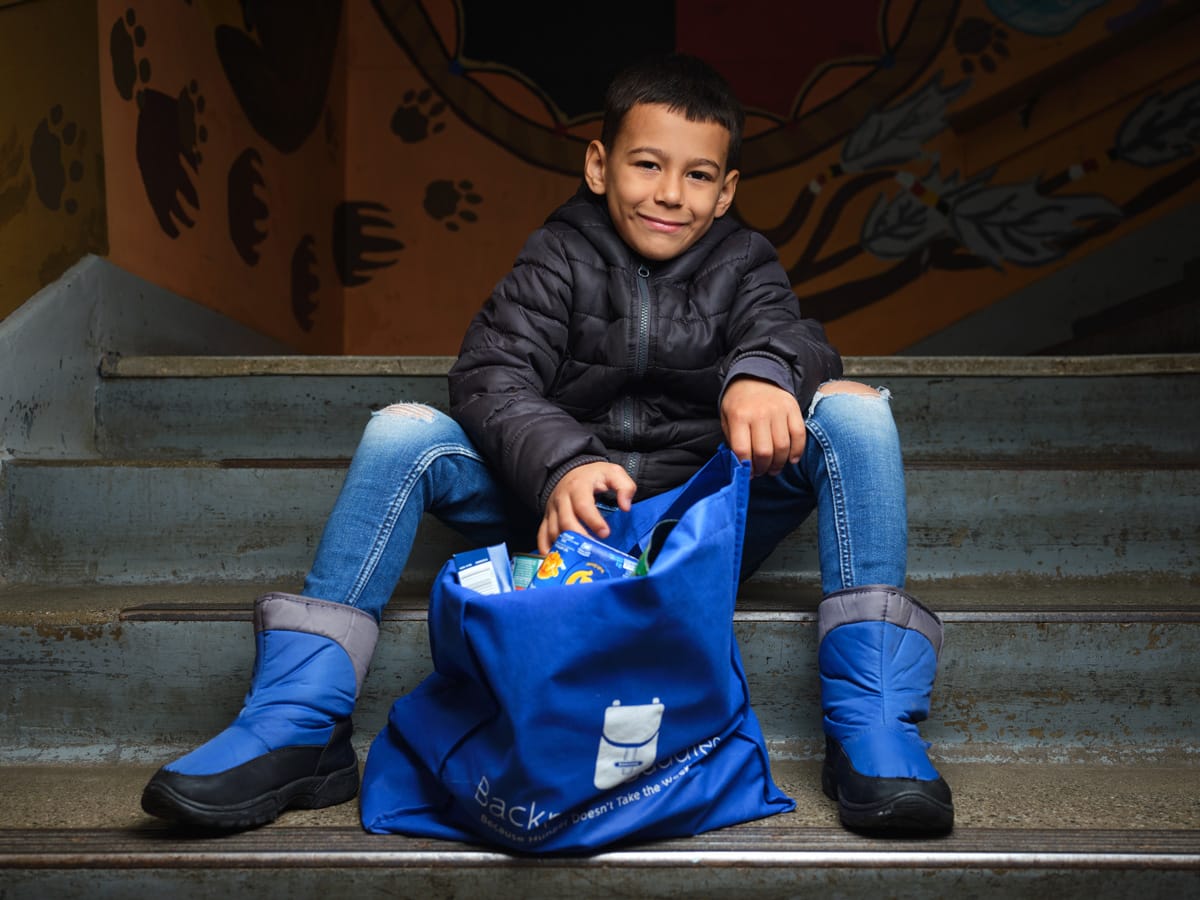 For just $20, you can feed a hungry child today
Your donation will provide a child in your community with meals and snacks to last them the weekend and beyond.
Children Across BC are Hungry
Families are in crisis. The ever-increasing cost of rent, household expenses and childcare has created an affordability crisis for families. One in eight families experiences food insecurity. For those that depend on school meal programs to help feed their children, every weekend brings renewed stress to keep food on the table.
Keep Reading
How We Help
Children facing food insecurity often do not eat enough, or don't eat at all, over weekends. Every Friday, Backpack Buddies delivers bags of food to thousands of BC's most vulnerable children. We ensure they have the meals and snacks they need to last the weekend and beyond.
Meet Jaimie-Lea
When Jaimie-Lea's husband died from an aggressive form of cancer, she turned to Backpack Buddies to help feed their three growing children.
"When I'm paying all our bills I don't have a lot left over for food — it's terrifying. The amount that I have makes it almost impossible to feed our family. Having food from Backpack Buddies is a huge weight off my shoulders. I know that I won't be stranded with empty cupboards."
We Work in Your Community
In 2012, we started with delivering just 20 bags of food to an East Vancouver school. Today, passionate volunteers, donors and staff ensure that over 5,000 kids from every corner of BC get the food they need every Friday, enough to last the weekend and beyond.
Make a Difference Today
Feed Hungry Kids
Join us as a donor. Pack bags as a volunteer. Get your company connected. Whatever you do, when you get involved with Backpack Buddies, you will be putting hope back on the table for hungry kids across BC.
Get Involved
There are lots of ways to get involved with Backpack Buddies. Join us and explore how you can make a difference in the lives of hungry kids in your own community and across BC.
Get Started
Donate to Backpack Buddies
Give today and provide hungry kids with meals and snacks for the weekend and beyond.
One-Time Gift
Monthly Giving
Contact Us Today
Have a question about our programs? Want to get involved? Need help making a donation? Get in touch and help feed hungry kids across BC.
Contact Us